Signature Bank to Reduce Crypto-Tied Deposits by $10 Billion
Owing to FTX's collapse, the crypto space is quite vulnerable at the moment. In the wake of instability, companies that have their toes dipped into this industry are reconsidering their position.
According to reports, Signature Bank plans to reduce its deposits tied to cryptos by as much as $10 billion. The Chief Operating Officer Eric Howell stated in a Goldman Sachs industry conference in New York on Tuesday,
"We're not just a crypto bank and we want that to come across loud and clear."
Howell added that reducing crypto exposure meant Signature was "going to exit about $8bn to $10bn worth of deposits in that space, which we can easily cover through cash and borrowings."
The FTX Tangent
Around 23% of Signatures' $103 billion in customer deposits were related to the crypto industry as of mid-November. The executive asserted that the bank was now seeking to reduce the share to less than 20% and eventually to less than 15% of the total deposits.
According to a recent Financial Times report, Signature is one of the few federally regulated banks that's known to have taken large deposits from crypto clients. In fact, it accepted crypto exchanges, stablecoin issuers, and Bitcoin miners as customers. It helped the bank's deposits triple from $33.4 billion in 2017.
The FTX exchange was a client of Signature bank. The bank clarified last month that its deposit relationship with FTX and its related companies amounted to less than 0.1% of its overall deposits. Nevertheless, the association of the two caused Signature's shares to drop by almost 20% in November.
On Tuesday, SBNY's shares dropped by another 5.58%, while during the after-trade hours, it slipped by another 1.73% to trade at $116.80.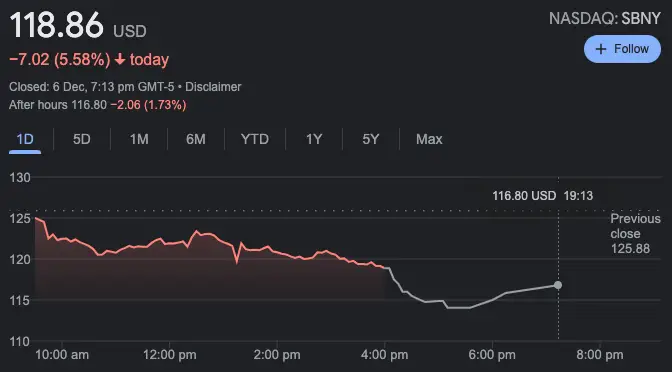 Source: Google Finance
Also Read: Was Bitcoin & Co. Impacted By The $645B Stock Market Erosion?
Source: https://thebittimes.com/signature-bank-to-reduce-crypto-tied-deposits-by-10-billion-tbt31440.html?utm_source=substack_source&utm_medium=substack&utm_campaign=signature-bank-to-reduce-crypto-tied-deposits-by-10-billion
Category: Cryptocurrency News
Post by: TheBitTimes.com